THE UTILITY TOOL FOR CONTENT MANAGEMENT
CONTENT MARKETING SOFTWARE FOR ONLINE CREATORS

ALL-IN-ONE CONTENT MARKETING SOFTWARE THAT HELPS TO CREATE, ORGANIZE, PLAN, OPTIMIZE, DISTRIBUTE, SELL YOUR CONTENT, AND PROMOTE YOUR PRODUCTS AND SERVICES.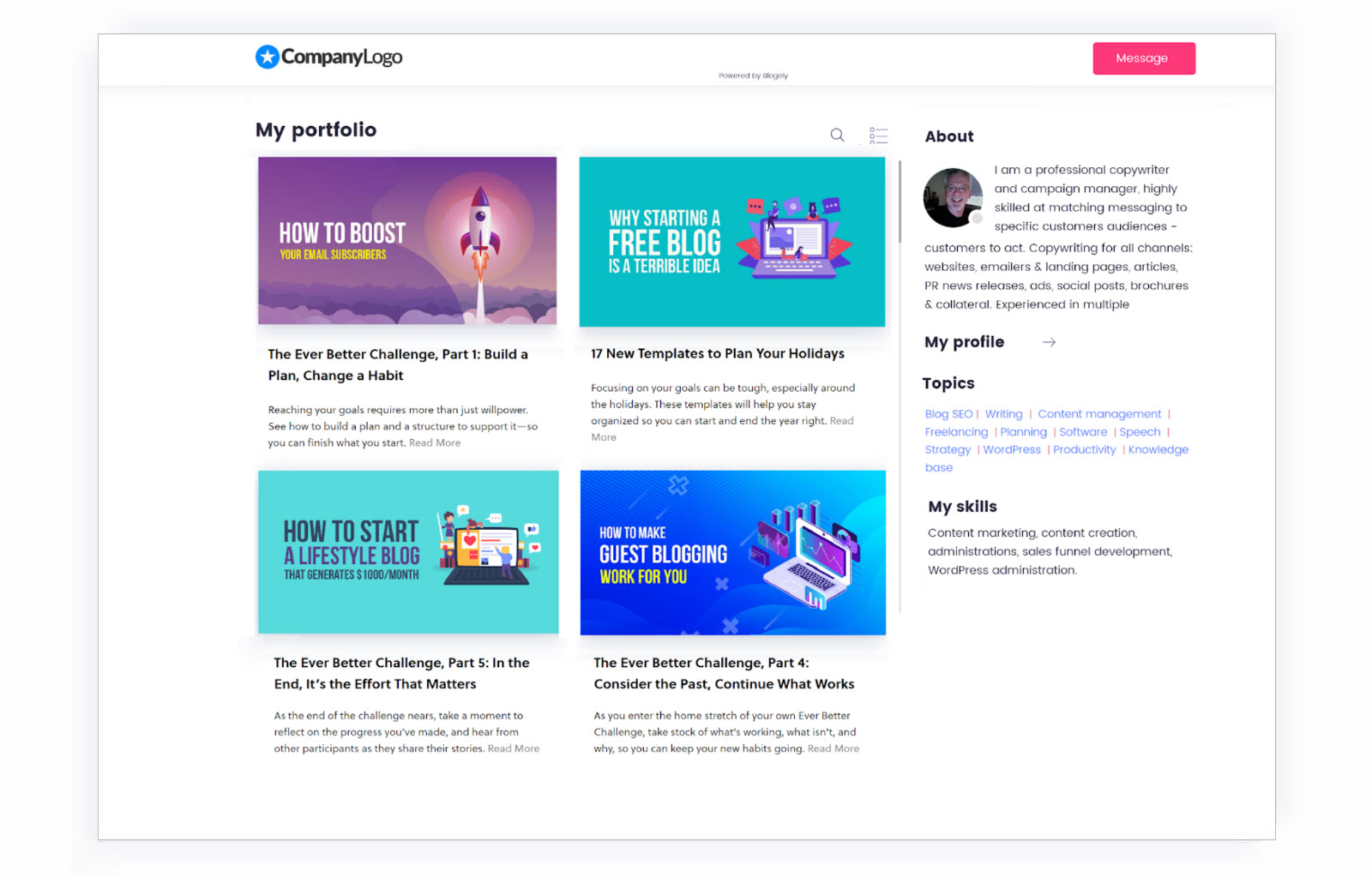 All-in-one solution to revamp your entire content management process
Unlike other solutions on the market, Blogely integrates with WordPress and provides an all-in-one platform that solves content creator biggest headaches. Content manager will no longer have to switch between incompatible software programs, deal with glitchy plugins, or pay for expensive SEO services. Our system combines all needed services into one intuitive platform that helps to save time and money while boosting your content management process.
Effective research & content writing
Content portfolio & profile management
Multichannel publishing & sharing
As a business owner, you need proper tools to create, edit, store, manage, and display your marketing content, tutorials, service offering, or product descriptions. Efficiently organize and consolidate all content pieces (text, graphics, files, and multimedia clips) and securely store it in Blogely repository. Group it into content portfolios that can be used for review (feedback), collaboration, display of news feed, knowledgebase tutorials, or presentations.
As a freelancer, a well-organized portfolio that shows off your copywriting skills and talents is critical in your search for clients. Easily create and share your content portfolio with your bio in one efficient space, avoiding costly and complicated hosting. It's like an elegant, digital business card that you can email, send a link via text to your clients, or post on Facebook or embed it on LinkedIn.
Simplify content creation
Make your content superb. Juggling all the steps involved in content creation can be frustrating. That's why Blogely created nimble, adept research, and writing tools that will save you time and money.
When you're creating content, you want to have all your well-documented research material available within the same space.
Organize all content in one place
No longer do you have to navigate multiple locations and interface with confusing disaggregated apps. Blogely makes managing and organizing your content assets exponentially easy. Store all your work – complete – with all the details and supplemental researched information. With all your files and images. Organized and presentable. Use single-click complete backups and save multiple versions of specific blocks. 
Collaborate and get feedback
Collaborate easily. Sometimes, effective communication can be a challenging task, which is why Blogely offers time-saving features, like messaging, in-app comments, and feedback all within one workspace. Get the timely review, respond to it, and save all comments. Use the commenting system of unresolved and resolved as an in-app simplified task manager. This way, you avoid confusion and expedite your projects.
Improve SEO and grow traffic 
Stop buying expensive ads. Organic Google rankings are the best way to grow your business. Blogely is ready to help you with built-in, on-page SEO optimization tools, one-click analysis of your blog's SEO score, and a deep dive into the equity of your keywords.
Accelerate content publishing
After you've worked tirelessly on your content, you want to plan, publish, and share with ease. That's why Blogely has created editorial content with global visibility. Multi-channel distribution to other platforms like Medium, Blogger, etc… 
Make sharing a habit. Drive engagement on social medial by posting completed article on Facebook, Twitter, LinkedIn, Reddit. Push your post to Buffer for optimal scheduling. 
Remove WordPress complexity
Blog management without the complexities of WordPress and the ability to distribute your assets from one place.
Most importantly:  make money
And lastly, you'll have Articles To-Go, an amazingly unique feature that simplifies the copywriter's complete workflow. After you've created your content, organized it, optimized it for SEO, you have it all packaged in a "snapshot" that showcases its attributes like word count, SEO keywords, etc. This way, it's all ready to sell – and all in one place.
All-in-one app that lets you to manage your blog
Built for content creators and bloggers, Blogely lets you plan and create all your writing content in one place. Seamlessly manage, collaborate, edit, and share on multiple channels – all while saving you time and energy. 
The first all-in-one tool that takes the frustration out of blogging. Increase your web traffic and create more valuable content, without having to jump through a million hoops. Blogely goes beyond keyword information and shows you just how well your blogs stand up to Google. With end to end management for all your blog content, Blogely is the most comprehensive blogging tool out there, and we are ready to prove it.