SEO word count
Writing articles takes a lot of time, and the first question pops to mind what it will take to write an average length blog post. But what is the average?
It's a good question I have done plenty of research to understand the importance of the proper blog post length. Is the word count important for blogging?
How long is the blog post should be? What is the appropriate length of the blog post should be for SEO?
It's no secret that word count plays a considerable role in how your blog post article will be ranked by the search engine. You want to appear at the top of the search results (in SERP ). This is why blogs are considered the most effective traffic generator.
However, do not forget about content quality. It does not do any good if you nail your word count, but the content quality of your article is not high enough.
So what is the SEO blog post length should be?
First: a blog post should contain at least 300 words to rank in the search engines.
Based on the analysis done by Brian Dean (Backlinko ):
"Based on SERP data from SEMrush, we found that longer content tends to rank higher in Google's search results. The average Google first page result contains 1,890 words."
Google's John Muller said (August 2019) in a Reddit thread that "word count is not a ranking factor." And yet, it is still a fact that the highest-ranking articles on Google are most often at the range of 2000 words.
"People just aren't willing to create in-depth, well-researched articles packed with insights. They just don't want to put in the time and effort. This means there's a lot more opportunity for you to create great content and stand out from the pack. Less competition!"
From "How to Create Viral Content.." by Noah Kagan, Appsummo
How long should a blog post be in 2020?
Longer blog posts rank better because they provide a lot more information with details. They generally offer more value. The value of content is what any reader is looking for.
Per Hubspot —the content of the blog post should be 2,250 Words or more…
* Courtesy of Hubspot
A post between 500-700 words is widely considered the "standard" length. It's not the best for SEO, but that doesn't mean it's impossible to achieve a first-page ranking. Depending on the search terms, some 500-700 word blog posts can rank well in Google search results.
Per MarketMuse – depending on the search term, there is considerable variance in average blog post word counts:
* Courtesy of MarketMuse: Average word counts of top ranking posts for specific search terms.
Topic relevance and quality have the utmost importance. There are millions of articles being published daily. The only way to compete today is to provide the best quality content as it is possible.
Everyone who is writing nowadays must set high-quality standards.
Remember: your primary focus is quality, in-depth content rather than speed and quantity.
As a beginner start at this a 1000 word article and it possibly would take you about 3 to 4 hours or even more. For experienced people, this time can be cut in half.
What is the average blog post length?
Searching Google for average blog post length using these key phrases "how long should a blog post be?" and "what is the length of the blog post article?" I have come up with a recommended length of 2000.
Medium has the most reliable study related to blog post length average based on time spent on reading. It is quite an interesting fact that tells something about human behavior.
"The average total time spent across all visitors of a post plotted against post length: 7 minutes". It translates to (based on average reading speed) to 1600 words
7 minutes. This is the average total time spent across all visitors of a post, plotted against post length.
* Courtesy of Medium
How often should I blog post?
Some people are thinking about posting more often in substitute for lengthy details articles.
There is some ruth to that. However, no matter what you are blogging about – you must provide a value for the reader. If shorter articles – other details can be added in other posts that are linked with each other. The best place for it in the article is the bottom of the post with a reader, something like – "Other related posts."
Sometimes, it is a good idea to break it down the post, which contains too much data. Do not try to jam everything in one blog post and cover everything. The reader comes to your post for one reason to find an answer to their question, whatever they might have. The keyword that you target your article (I hope you do that – target every blog post article to one specific primary keyword).
Pros and cons
There are pros and cons of having high blog posts frequency. Can you do it daily? It is the right approach if your goal is to create as much content as possible, so this will increase website ranking. You better start writing daily and make it your routine.
On another hand, if you have subscribers and set up a distribution list for automated emailing of newsletters – you might annoy your readers with the flood of emails, and they may put it into spam box. Do not unsubscribe yourself 🙂
Promoting your blog post after publishing is the next critical step that many people just do not pay attention to. I am included. I was… I can admit that. It is hard.
There are some ways you can go about that. Networking and commenting other bloggers in your niche or a related niche … as it is recommended by Dries Cronje is the founder of Inner Calm, Outer Power Danny C in Smartblogger.
That strategy alone can keep you really busy.
How many words should a blog be for SEO?
An interesting fact that even today having an abundance of information that 68% of marketers are reporting that they do believe that 200-700 words is the ideal length for blog posts on THEIR SITE.
* Courtesy of Hook Agency
And yet, no matter what they believe, an ideal length for SEO in 2020 is 1760 words. It is based on the conclusion of 5 experts (in the last couple of years.)
What are some blog post article length statistics
According to : "posts which contain more than 1,500 words gained 68.1% more tweets and 22.6% more Facebook likes."
Most bloggers (55% ) write less than 1000 words per post. (Courtesy of orbitmedia.com)
20% of bloggers create posts that are 1500+ words in length.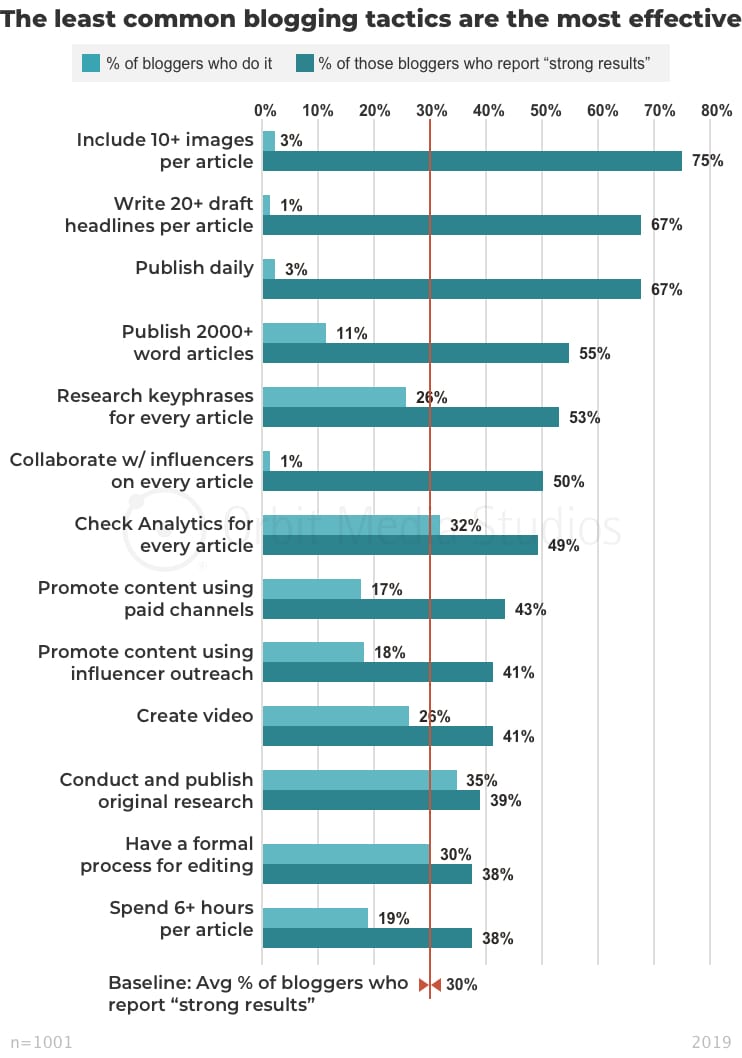 * Courtesy of orbitmedia.com
44% of bloggers report publishing new blog content between three to six times per month. (Orbit Media)
* Courtesy of Content Marketing Institute
77% of Internet users read blogs.
Once you write 21-54 blog posts, blog traffic generation increases by up to 30%. (* Courtesy of Impact )
Average reader speds 37 seconds to read a blog post ( *Courtesy of Nescred )
Type of blog posts can determine the length of the article
There are three main types of blog posts identified by
They are being driven by the goal:
Response (relatively short ~ 1500 words)

Staple (medium size post ~ 2500 words)

Pillar (long in-depth content of 3500+ words)
So, the quality of the content does correlate with the length of the posts.
Creating the most helpful resource possible is the best way to rank high in Google rankings.
Many other variables rank posts higher. Some people are searching for an answer to specific questions. They are not likely to read along and in-depth article. All they want is just a quick answer to their problem. This is when the Response post comes in. They address the issue; they get to the point quickly.
Pillar posts are on the opposite side -they are big, meaty posts. They're useful, actionable, in-depth content, well-written, and engaging. They serve the purpose of providing as much as possible information for the subject matter. They have relevant images, audio/video files, and references to support the points you're making in the text.
There are some interesting statistics regarding blog post length is from Constant-content
43% of people tend to skim blog posts
Consumers are faced with more online content than ever before. Make sure your blog is easy to scan with short paragraphs, subheadings, and visuals.
Conclusion
Google's algorithm prefers more content word count compared to shorter content posts.
It is not about quantity, but quality. It is critical. If you generate enough content and optimize it for excellence, you'll be able to rank in the top SERP results.
SEO is getting more complex and smarter. A strategy is necessary to achieve long-term success. Whatever your approach, the message is loud and clear: your articles require a checklist of SEO items for them to rank well. Word count appropriate to the goal and audience might help you get there faster, but it won't guarantee results on its own.
Make sure to produce the best possible quality content, optimized for SEO, and do it consistently.
Join our mailing list to be part of the early access program .