To come up with blog post ideas can be difficult
D o you know the toughest part of creating a blog post? Have you ever felt helpless when you want to write but get no clue that what to write about?
Many people consider blogging as simple as ABC, but in fact, it is really not. Expert bloggers know this proven fact that coming with an incredible blog post idea is the real key to success and it is not a simple accomplishment.
In today's dynamic world, it is far superior to make a move than to sit and wait that ideas will approach you themselves; there are lots of ways, you can use to get your imaginative energies flow. But before discussing 20 best ways for brainstorming blog post ideas, everyone who wants to adopt blogging as a career should keep these two principles in mind.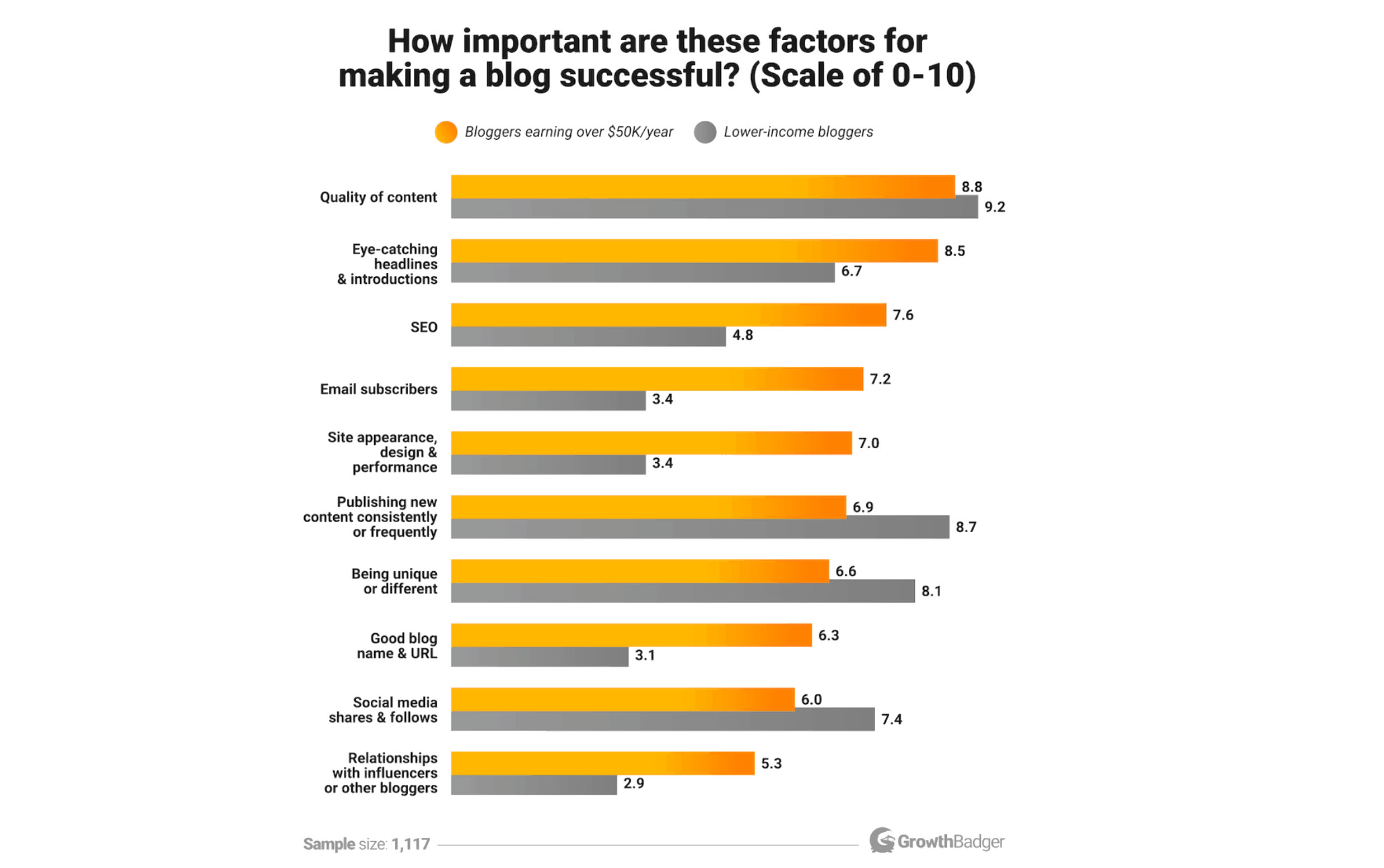 * Courtesy of GrowthBager
Two Key Principles of any Blog Post
Write about your area of interest, not your product. People don't look for a product call or category; they search because they have got a problem and they are looking for its solution. Content that is applicable to the existence of the audience is way better than the content that just talks about product specs.
Content should aim to entertain and educate the audience. Always ensure that content should attract the audience's interest, fascinate them and they should find whatever they are looking for.
Remember following these two golden rules before you set to create a killer blog post. Put your thinking caps on and let's practice these 20 incredible ideas to come up with blog post ideas.
1. Using Google Autocomplete
While thinking about blog post ideas, most business owners use Google to type in for their focused theme and to see what Google generates for them. But before you complete your search, you can utilize Google's autocomplete function to come up with topics; you may have not thought about before.
You can use ideas generated through autocomplete to create your engaging blog post.
In this above-shared picture, you see that the search for "google is" auto-suggests terms like " Google is evil", "google is god" and "Google is watching you". You can use all of these or one of these into a blog post.
2. Utilizing BuzzSumo or Ahrefs for topic ideas
The first and foremost way to get motivation for developing valuable content for readers is by utilizing two online instruments. i.e BuzzSumo and Ahrefs. In the event that you've never known about them, these two devices help you know about the most shared posts on the web over different timespans and across various platforms.
By investigating what stories are being shared the most, you can make sense of what subjects are in demand at this moment. Subsequent to distinguishing intriguing issues for your niche, you would then be able to contribute, add your voice and experience to the majority and get your substance possibly appeared to a wide group of spectators who are anxious to get familiar with the subject.
3. Follow your competitors for blog post ideas
Sometimes following your competitor will bring about "For what reason didn't I think about that?" blog entry thoughts. That is on the grounds that – regardless of whether you admit or not – once in a while your rivals think of some really great blog post ideas.
You can check your competitors' blogs to investigate what they are expounding on or take help from tools like SpyFu to produce a rundown of keywords your competitors are focusing on while creating their content.
Note: From my experience – out of all paid software SpyFu is the most economical keyword research sofwtare for beginners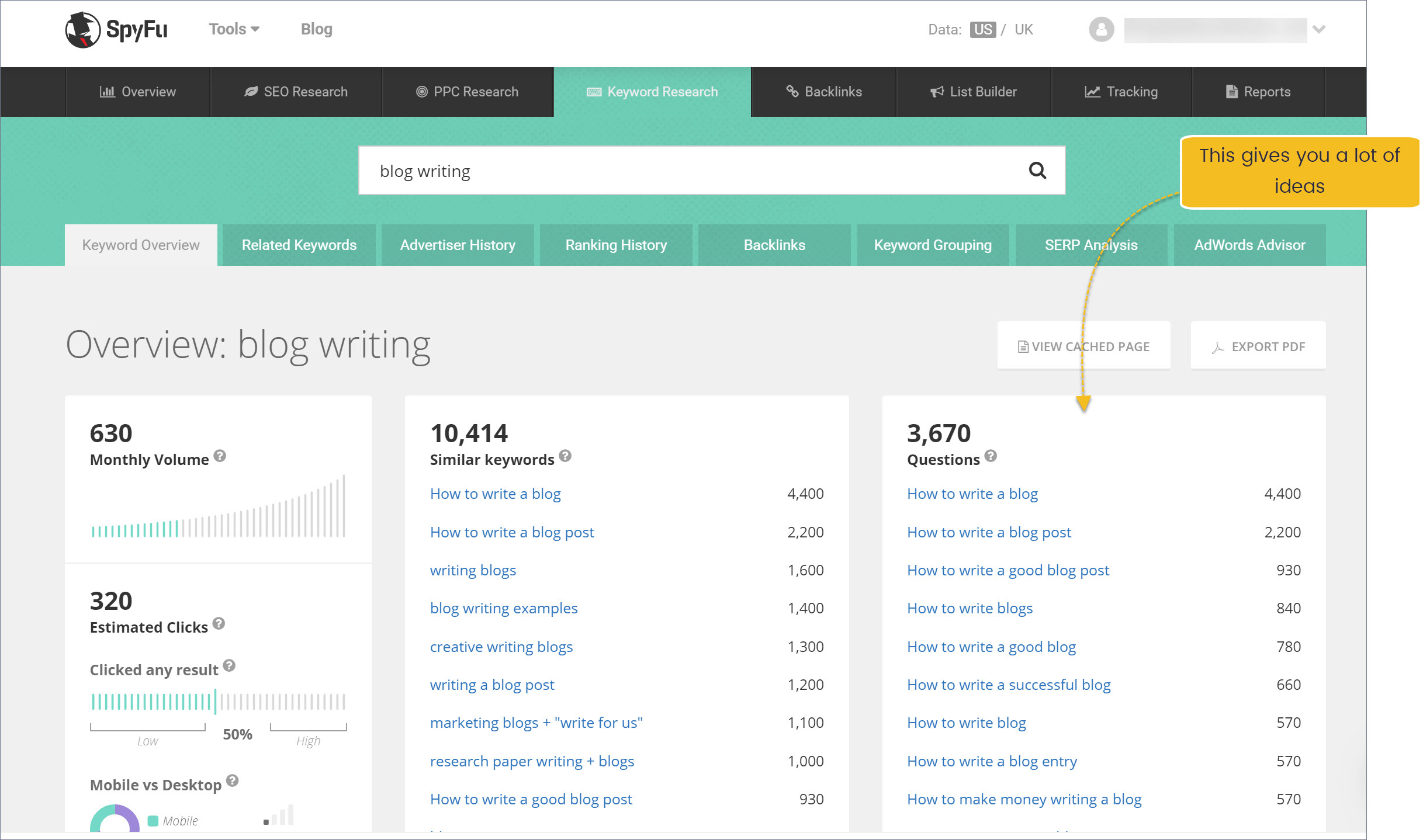 4. Using Amazon book listings for blog post ideas
There is no better way to come up with your blog post idea than using Amazon book listings. They will assist you in identifying topics pertinent to your niche. Amazon book listings are an astounding method to distinguish these most significant themes.
You can take help from this by using these four steps:
Look at content collections to find topics that are common
Look at most famous book
Search for the books with the option "look inside"
Begin producing content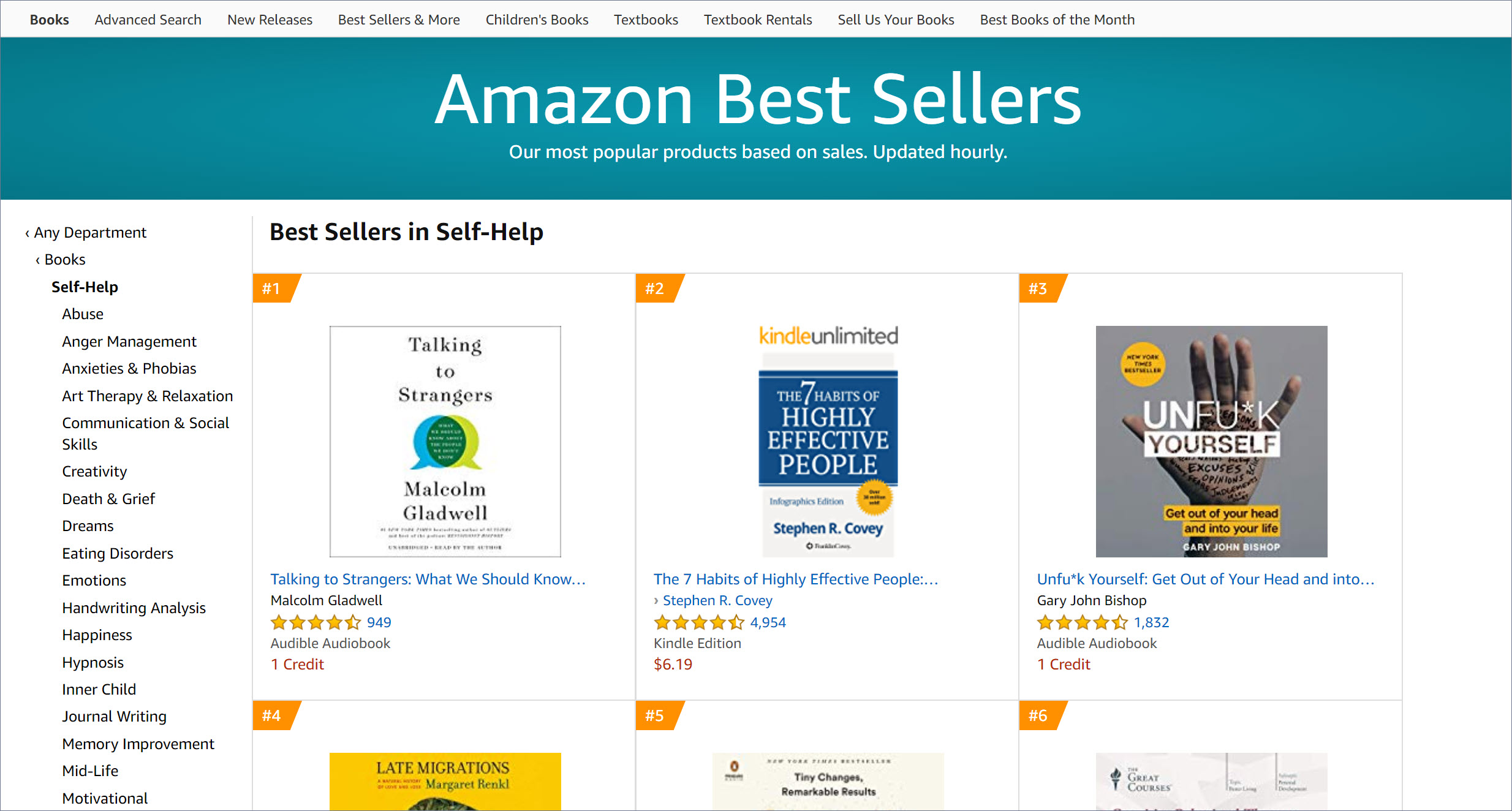 5. Using Online tools for blog post ideas
There are many online tools to assist you with blog content ideas. The most used helpful online tools are:
Ubbersuggest – returning google autosuggest for each alphabet
AnswerThePublic – particularly d esigned to help you know the commonly asked questions about any topic. Google autosuggest drives to incorporate query keywords ("how", "where", "when", "which", "what", "who" and "are") with autosuggest answers.
FAQ Fox – skilled in keywords as it rubs questionnaires such as Reddit and Quora to find frequently asked questions related to your topic.
6. Use the Skyscraper Technique
Someone else will already have addressed many of your blog post ideas, but why do you halt yourself. If your competitor has beaten you with Top 10, you should raise the bar with Top 20 or more. This is the skyscraper technique.
7. Using HubSpot's Blog Topic Generator
HubSpot's Blog Topic Generator can really assist you to get new ideas related to the entered keywords.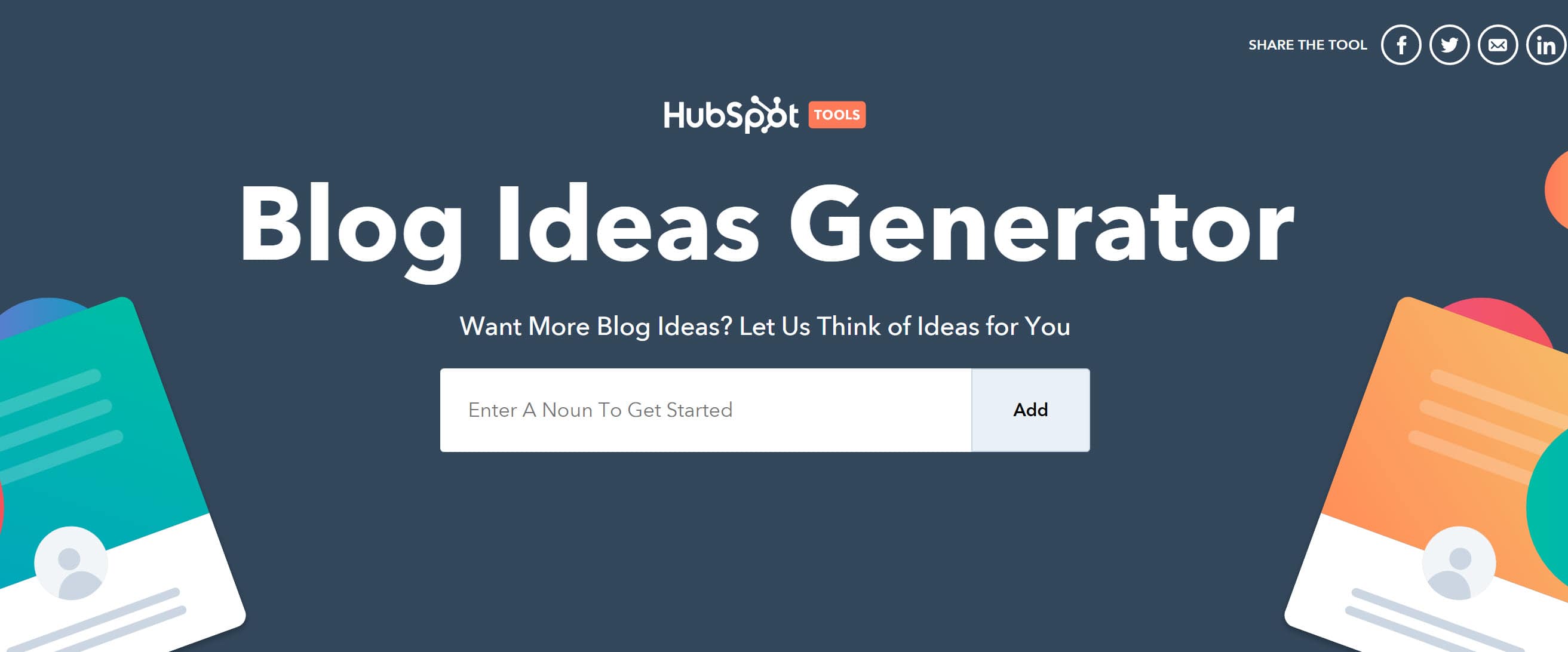 8. Answer the Public
This free visual keyword research tool can generate a huge list of questions relevant to your targeted topics. These questions could be something the reader was asking for and thus you can choose a blog post idea with the help of these questions.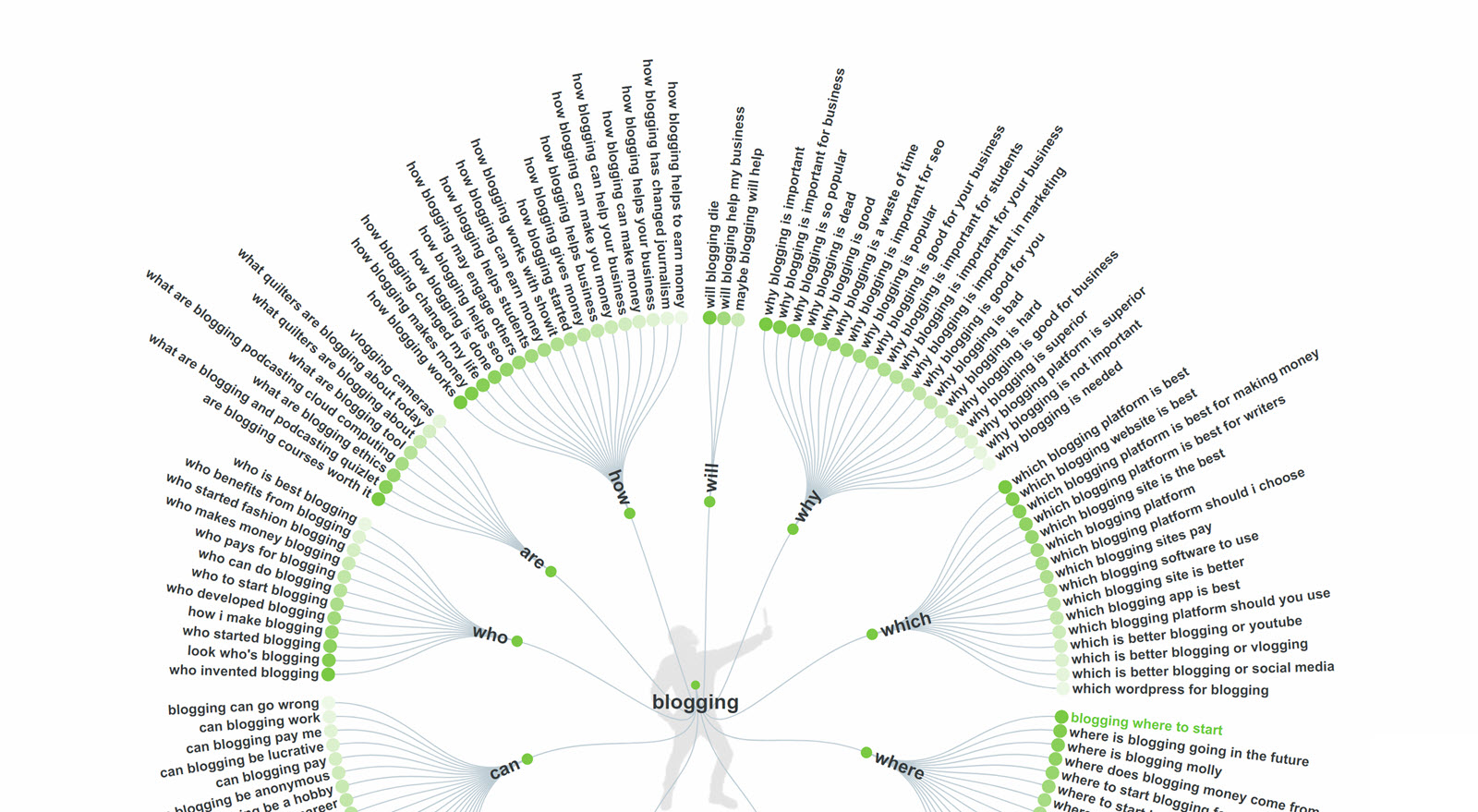 9. Using Udemy Courses
Udemy is a gold mine of generating ideas. Unlike Amazon, it not only displays content people might want, but it also shows for what kind of content people are ready to pay. To use Udemy, use their website and you can look into by category or by keyword.

Look for their famous courses and this way you will get an idea that what people are facing and how you can offer them a solution to their problem.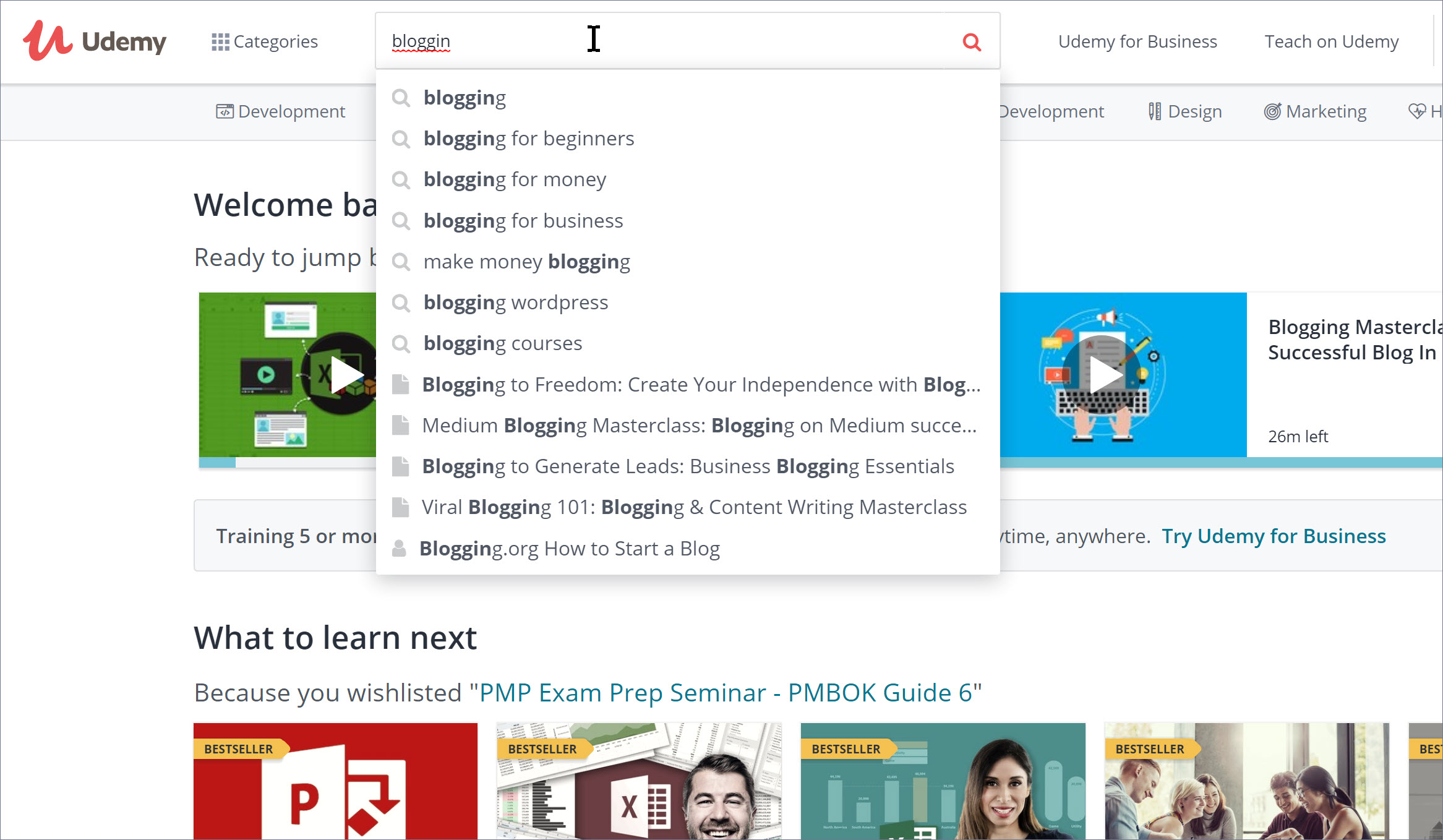 10. Related Keywords
If you possess skills in SEO then you must know the technique of researching keywords related to your topic. SEMrush and Keywords Everywhere will create a strong report of keywords that can be later on converted into blog post ideas. This will also save time.

11. Google trends
If you want to take advantage of a rising trend, go to Google Trends for conceivable blog ideas. You would be able to discover ideas that individuals are effectively looking for, however, you can discover "Related Queries" that branch off of your underlying inquiry.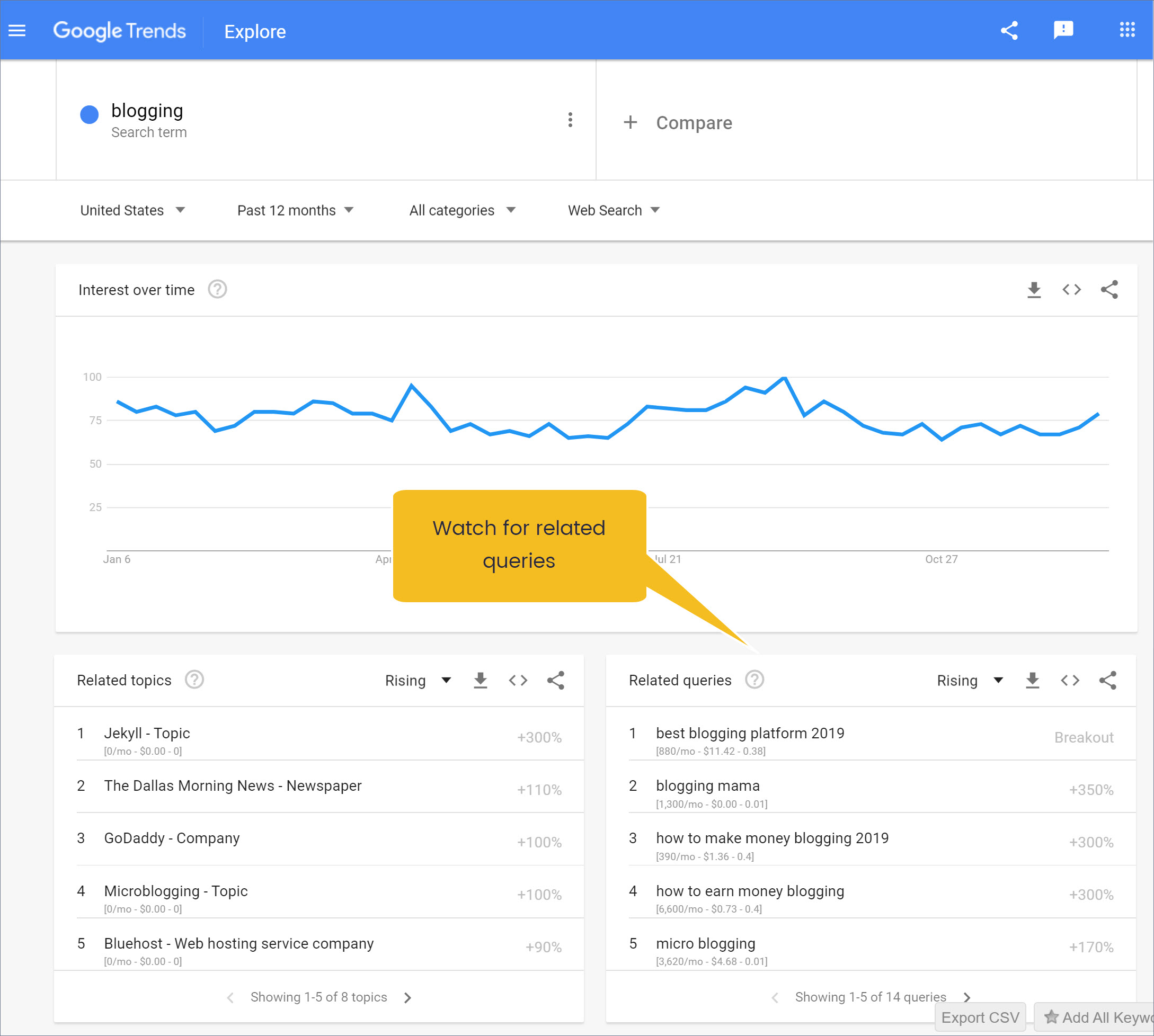 12. Pinterest
This is a famous social media as well as a search engine and you can also use it as an amazing source of coming up with many blog post ideas. "Trending ideas" section can help in finding trending topics.

The result of the Pinterest search will be a blend of pictures, videos, and blog posts. It will help you know what other brands are doing and think of your smart blog post idea.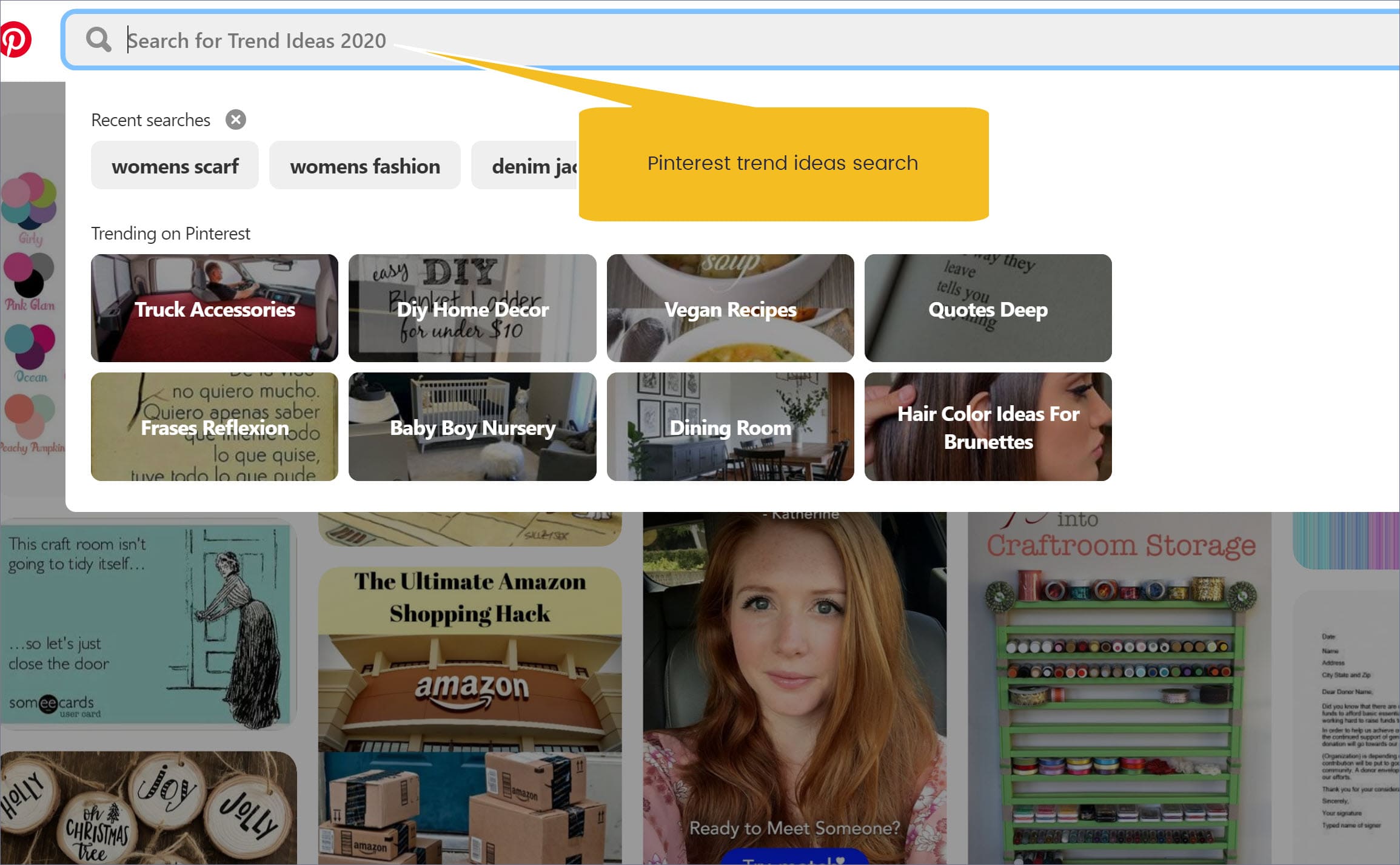 13. Using blog post Idea generators
Many idea generators are available online to help you in the process of coming up with a unique blog post idea. Many of them only need you to type a noun or subject that you are considering, and the idea generator will work for the rest.
Potential choices for this include:

Content ideator – Just like BuzzSumo, it searches the internet for already available content. Nonetheless, these posts are authentic, so do not copy but use for motivation.
Klock.work idea generator – write a noun in the search box, and it will suggest 50 potential headlines instantly. It will also suggest a suitable category and will also help in providing related infographics as well.
Link Bait Generator – Try this if you need some help coming up with a blog post title, then use Link Bait generator. It is a convenient tool to brainstorm different ideas.
14. Audience Surveys
Another excellent way to come up with a blog post idea is to know from your audience that what are their areas of interests. This way certainly you will know the topics of audience choice.

You can use Google forms to ask the audience what they would like to read and learn about. You can send these forms to your social media followers, contacts in your list or your existing customers. Their answers could convert into some interesting blog points.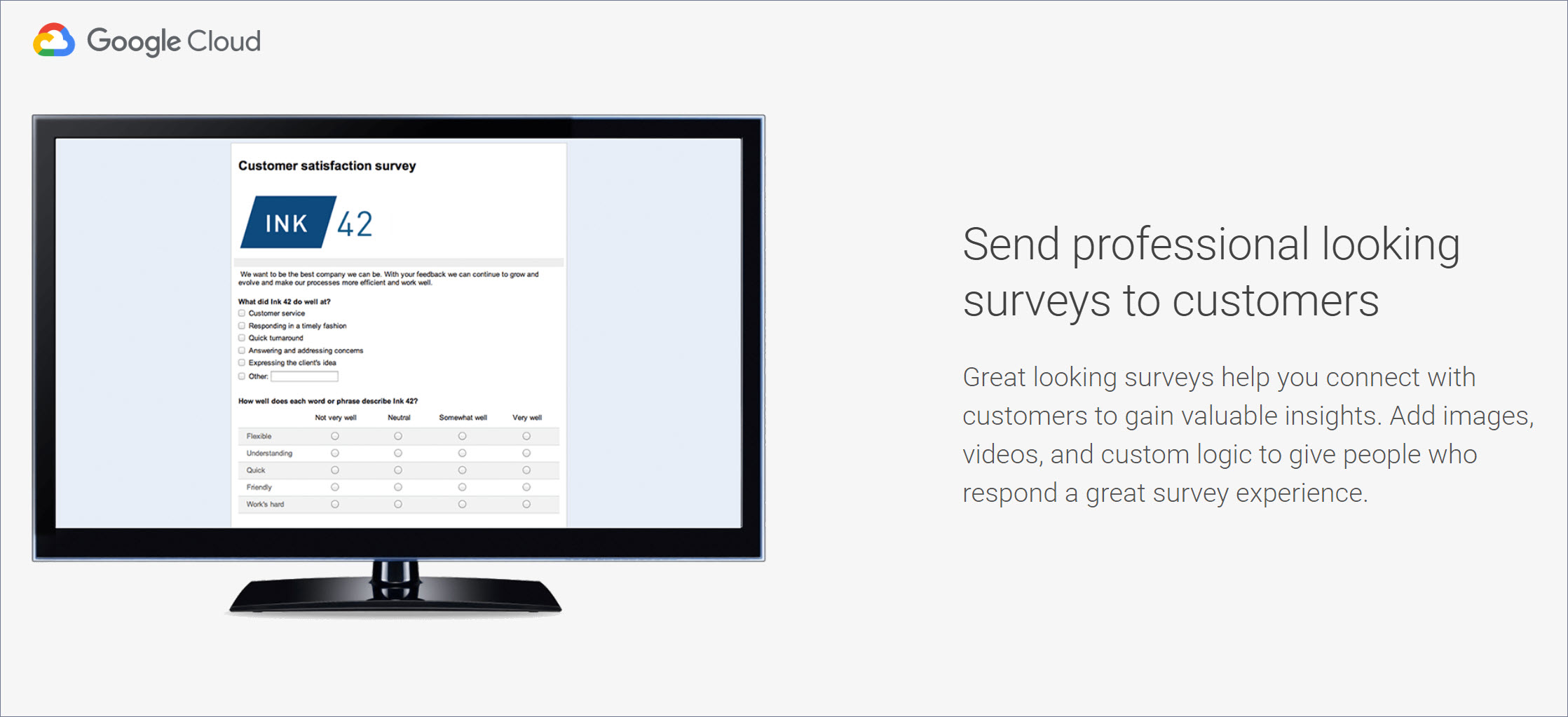 15. Follow articles on LinkedIn
LinkedIn is one of the best professional social media platforms to connect with people and knowing valuable information. Connect, comment and read valuable thoughts and articles shared by experts to get inspired. Dig deeper into the asked question and it will definitely help you in getting some idea for your blog post. You can also share with the writer that you have quoted him in your blog and he can check it once you will publish the blog. This will also help in increasing contacts.
16. Get ideas from discussions in Facebook groups and Instagram stories
Internet-based advertising is an amazing route for organizations of all sizes to arrive at possibilities and clients and generate content ideas. Facebook Groups is an often-misjudged resource. It a solid base for a functioning network. You can see new inclining discussions, proposals, tips, new bits of knowledge from entrepreneurs and experts.
There are many kinds of blog entries that work contrastingly on each business page or group, so ensure you get ideas and adjust the message to your targeted audience.

If you have an Instagram account, you can post a Story that offers your followers the chance to ask you questions. Inside the highlights of Instagram Stories, you'll discover a choice to include a question box where followers can present their questions to you, and you can address these asked questions in your blog.

17. Case studies
If you want to prove that you don't just blow a trumpet; you give an innovative yet practical solution in your blog posts. Including some case studies in your blog is an awesome idea.
Your audience and potential customers will definitely like to know the results you have got from your existing customers. Discussion about your previous projects and how they paid off will be fruitful. Case studies can likewise show some strong chances to focus " example"- or "case studies"- related keywords.

18. People Also Ask
Another helpful built-in feature of Google to generate potential blog post ideas is the People also Ask section. When you search a topic on Google, the search result may include this section that shows a list of often asked questions and answers.

You can use these questions in topics of your blog posts or use them in your blog.

19. A to Z posts
Have you ever tried crafting A to Z post?
This includes brainstorming ideas that line up with each letter of the alphabets and merging those into a post. For the SEO industry, for instance, "A" might mean "Alt Tags", "B" for "Backlinks", "C" for "Content", and so forth. At that point, you spread these inside your article for a pleasant outline of your primary subject or industry.

20. Check Google News
Google News can do wonders in your content promoting strategy to perceive what is inclining in digital marketing and different businesses. It is the most straightforward approach to search for recent developments and news in your industry.
You can look for anything with respect to digital marketing, science, sports, and many others. Or then again scan for things you may be keen on, in light of what you find in different categories and come up with new ideas from there.
Often many of us get stuck to come up with topics or ideas about our blog posts and the fact is that there are numerous ways to come up with incredible ideas. The techniques shared above can assist in generating ideas not only for blogs but also for presentations, podcasts or webinars as well.

21. Check for blog topics ideas in Quora
Quora or yahoo answers is a great place to start. If somebody has already asked a question that means people are interested. And the best part is you can name the blog post exactly the same way as the question asked, so when googled your post will come up right next to you quora and yahoo answers results, which can give your post some credibility.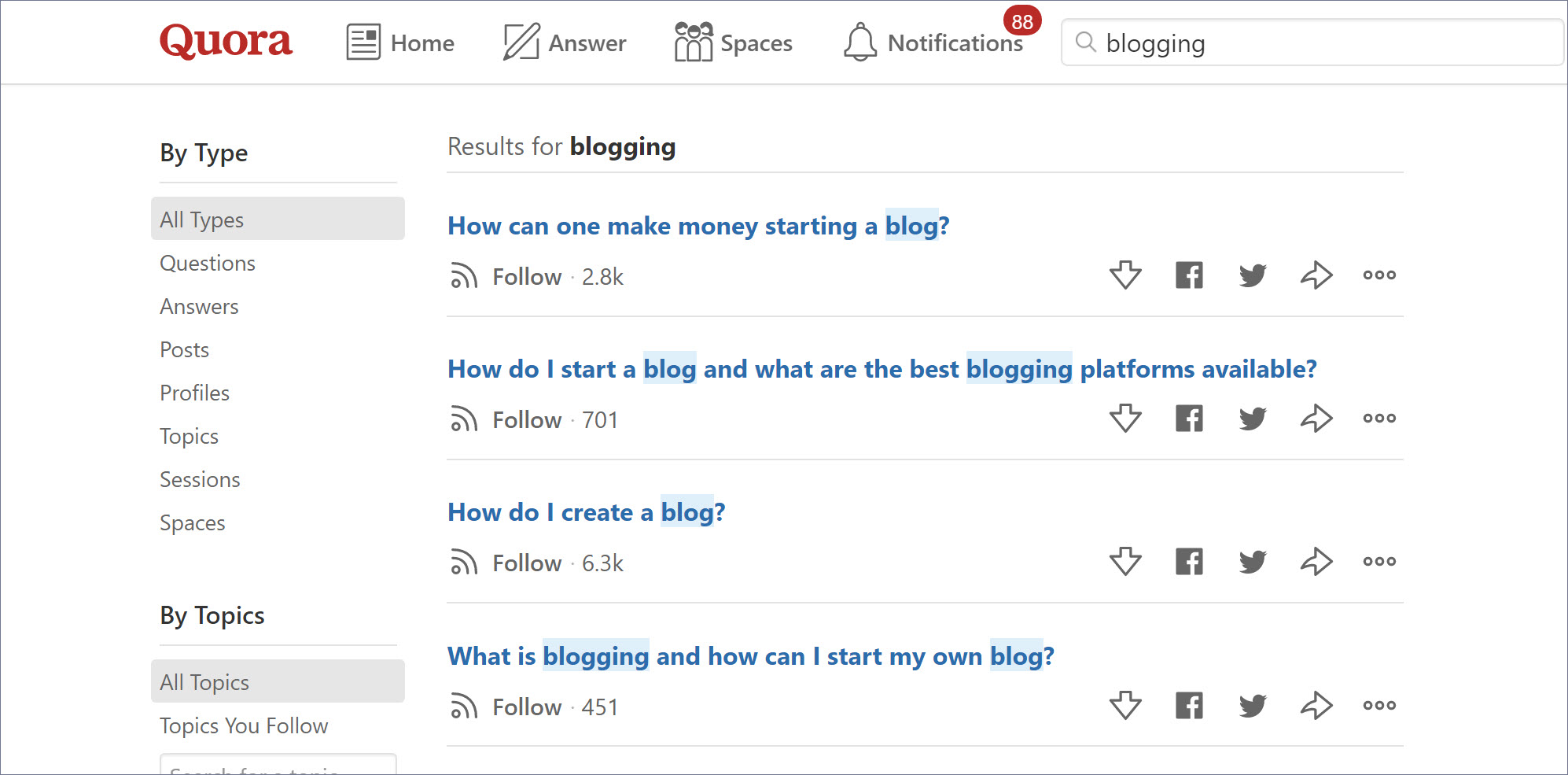 Conclusion
There are many wonderful free tools and resources are out there that can help you to come up with great new ideas for blog posts.
You can check our recent article on blog title generators.